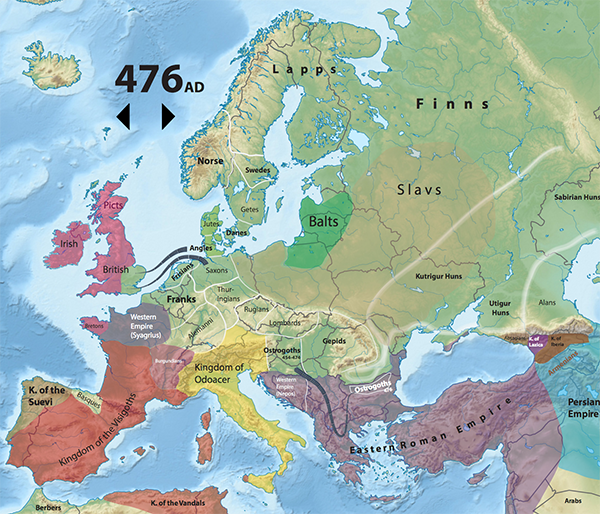 >> See the chronology
>> See the maps
This blog post introduces the first of a set of historical maps of Europe that can be displayed at the same scale so that you can compare political or ethnographic boundaries from one time to the next. The first set covers the period from 362 AD to 830 AD.
A key aim here is to allow you to switch from map to map and see how boundaries evolve across an unchanging background.
The information in the maps is derived mostly from information in Colin McEvedy's excellent series of books, in particular (so far) The New Penguin Atlas of Medieval History, but also sometimes brings in information from the Times History of Europe. Boundaries are approximate for a number of reasons: first, in the earlier times especially, the borders were only approximate anyway, second, I have deduced the boundary information from small-scale maps and (so far) only a little additional research, third, the sources sometimes differ about where boundaries lay. I hope to refine the data during future research, in the meantime take this information as grosso modo.
The link below the picture takes you to a chronological summary of events that lie behind the changes in the maps. Click on the large dates to open maps in a separate window. (Note that all maps will open in that window, and you may have to ensure that it isn't hidden behind the chronology page.)
The background to the SVG overlay is a map that shows relief and rivers, as well as modern country boundaries (the dark lines). These were things which, as good as McEvedy's maps were, I was always missing in order to get useful reference points. Since the outlines and text are created in SVG, you can zoom in to see details.
This is just the first stage, and the maps are still largely first drafts. The plan is to refine the details for existing maps and add many more. So far we only deal with Europe. In the future I'd like to deal with other places, if I can find sources.
« UniView now supports Unicode 9 beta – UniView 9.0.0 available »
One Response to "Historical maps of Europe, 362-830 AD"
Ann Bassetti Says:
March 25th, 2016 at 5:27 pm

Thanks, Richard; these are very interesting! I'm intrigued to learn of many ancient cultures I never heard of, and even better to see their locations and movements on sequential charts. History illustrated and enlivened (especially with SVG)! Makes me wonder what cultural or linguistic shadows still exist from these ancient peoples; I'm sure there are many.

I would love to see similar information for parts of the world not typically represented in American / European history lessons, e.g., Africa, Asia, South America. So much to learn …
Leave a Reply